Wire Materials:
The main material of stainless steel welded mesh panels are mild steel wire and stainless steel wire.
Characteristics:

Stainless Steel Welded Mesh Panels offer excellent characteristics such as corrosion resistance, oxidation resistance, acid resistance, alkali resistance, aging resistance, sunshine resistance and weather resistance. Besides this kind of product has flat even surface and strong structure, therefore this product has a long service life. Good material life of up to several decades.
Applications:
Stainless Steel Welded Mesh Panel with excellent corrosion resistance and oxidation resistance, is extensively used as fencing, decoration and machinery protection material in agriculture, construction, transport, mine, sports field, lawn and various industrial fields.
The most popular products and specifications
4' × 8' panels in stainless steel with 4" opening and 4.0mm wire diameter.
4" × 4" openings mesh panel. Ideally 3' × 16' or similar that can be cut down to size.
Stainless steel mesh 50mm × 50mm wire diameter 4mm.
304 stainless steel welded mesh panel with 2" × 2" mesh size that is 5ft. by 10ft..
Stainless steel panels, approx 72 × 60, 1/2 ' squares for building an aviary.
Stainless steel 4" × 4" wire panel. 4 or 6 gauge 10' long by 30" tall or 5' tall.
Stainless steel welded mesh panel (4 × 8ft. and 5 × 10ft.) from16 or 14 gauge wire 1 × 1/2 inch for outdoor aviary.
51" × 43" × 1 1/2"sq × 4mm thick stainless steel weld mesh.
Stainless steel wire mesh black coated finish 12mm × 12mm square mesh.
Stainless steel wire mesh insect screen 4mm × 4mm square black coated.
304 Stainless steel and 316 Stainless steel 10' by 10' sections with 2" × 2" openings with the 2mm diameter used in light weight application.
4ft long × 3ft wide of the 1/2" × 1/2" stainless steel 304 mesh piece, bordering these pieces with 2" × 2" ninety degree angle 304 stainless steel.
10 gauge and 8 gauge 2" × 2" stainless steel heavy duty welded mesh guarding bar for bridge building.
Stainless steel welded mesh panel, 1" × 1" , 1 1/2" × 1 1/2", 2" × 2" mesh, 3mm, 4mm, 5mm wire dia.
Stainless steel wire welded fencing panels for build a fence around organic garden. It is sturdy (chicken wire is too flimsy), anti -rust, and non-toxic to the soil and plants.
Stainless steel mesh 25mm × 25mm mesh for seagull defence, as barriers against seagulls nesting on roof and chimney.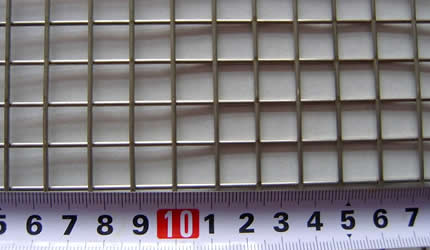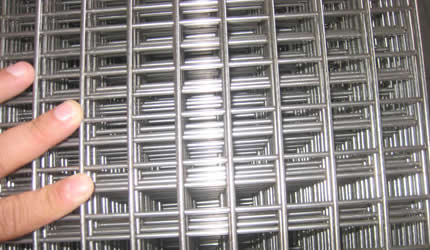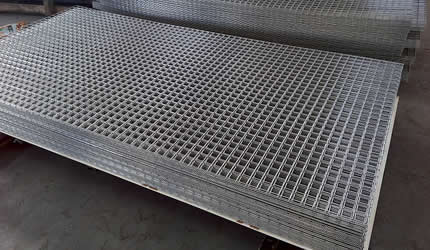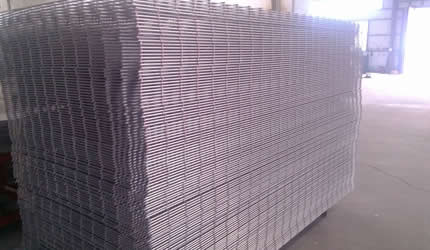 GAUGE
MESH
W X L
VN.W/ROLL (KGS)
LOAD CAPABILITY (ROLLS/20')
BWG14
1" X 1"
3' X 100'
56
240
2" X 1"
3' X 100'
41
245
BWG15
1" X 1"
3' X 100'
42
275
2" X 1"
3' X 100'
32
285
BWG16
1" X 1"
3' X 100'
35
330
2" X 1"
3' X 100'
27
360
3/4" X 3/4"
3' X 100'
47
300
BWG17
1" X 1"
3' X 100'
28
360
1" X 1/2"
3' X 100'
41
330
3/4" X 3/4"
3' X 100'
36
335
BWG18
1" X 1"
3' X 100'
19
475
1/2" X 1/2"
3' X 100'
40
415
1" X 1/2"
3' X 100'
29
415
3/4" X 3/4"
3' X 100'
26
440
BWG19
1" X 1"
3' X 100'
14
565
1/2" X 1/2"
3' X 100'
28
490
1" X 1/2"
3' X 100'
20
525

3/4" X 3/4"
3' X 100'
19
545
BWG20
1" X 1"
3' X 100'
10
740
1/2" X 1/2"
3' X 100'
20
580
3/4" X 3/4"
3' X 100'
13
630
BWG21
1/2" X 1/2"
3' X 100'
16
700
BWG22
1/2" X 1/2"
3' X 100'
13
800
BWG23
1/4" X 1/4"
3' X 100'
20
800